Recently the world of entertainment is rife with Nilofa banana milk issues. This is because of the banana milk leaflet produced by Neelofa's famous lawyer and entrepreneur. However, in an interview with the media recently, Neelofa admit shocked and saddened by the attitude of some people who are trying to topple the Malay business people of the same race. According to Neelofa, such actions would only harm and inhibit young people's ability to improve their standard of living. "I'm disappointed because business (banana milk) is open opportunity for young Malays in business, most of them have never been in business and want to learn a business.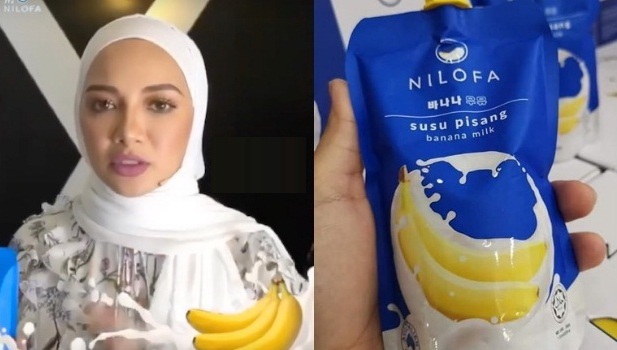 "I am sad that the Malays also cover opportunities and if other people saw the applause. Malays tried to opportunity but also want to drop a Malay boy … we have to change this attitude and mindset! "If this kind of taboo to see the Malays succeed if we are not going to be rich and powerful people, it all starts with us, do not exaggerate and exaggerate this thing," she said. Neelofa shared the statement via Instastory during a press interview last Friday.
Earlier, the Meletop program advocate described banana milk leaflets that misunderstood and misled consumers until they received a warning from surgeon Dr Amalina Che Bakri who had recently received no approval from the plant or agency. In fact, they will also take precautionary measures before uploading a sharing or statement on social media and further streamlining the banana milk package after the milk is inspected by the Ministry of Health (MOH). They will also submit some documents requested by MOH to ensure that the product is promoted as banana flavored milk.
On Tuesday, Dr Amalina via her personal Twitter account asked for the entrepreneur's explanation of the Nilofa Banana Milk supposedly over-promoted status. Because of this issue banana milk, Neelofa name and Malay to be trending on Twitter. Meanwhile, Dr Amalina has called for no one to play the role of a racist in any wrongdoing. However, he did not say exactly who the message was. "I hope people stop using race as a reason 'cause the kid Malay Malay'. It is about integrity, ethics and responsibility. Wrong is wrong. Dare to be right, fear to be wrong. I would say no matter who you are if it gets my attention. "I do not benefit by doing so, I am against and talking about overclaim and dangerous products to protect Malaysians.