Anyone on vacation in Shah Alam? Or come here on business? And you need a rental car for all that? We can help. Click the Whatsapp button below for this month's promotional price.
Articles Related To Car Rental Shah Alam
Car Rental Shah Alam is a car rental service based in Shah Alam, Malaysia. Shah Alam is the capital city of the state of Selangor and is located approximately 25 kilometers west of Kuala Lumpur, the capital city of Malaysia. The city is known for its vibrant urban atmosphere, business districts, and various attractions.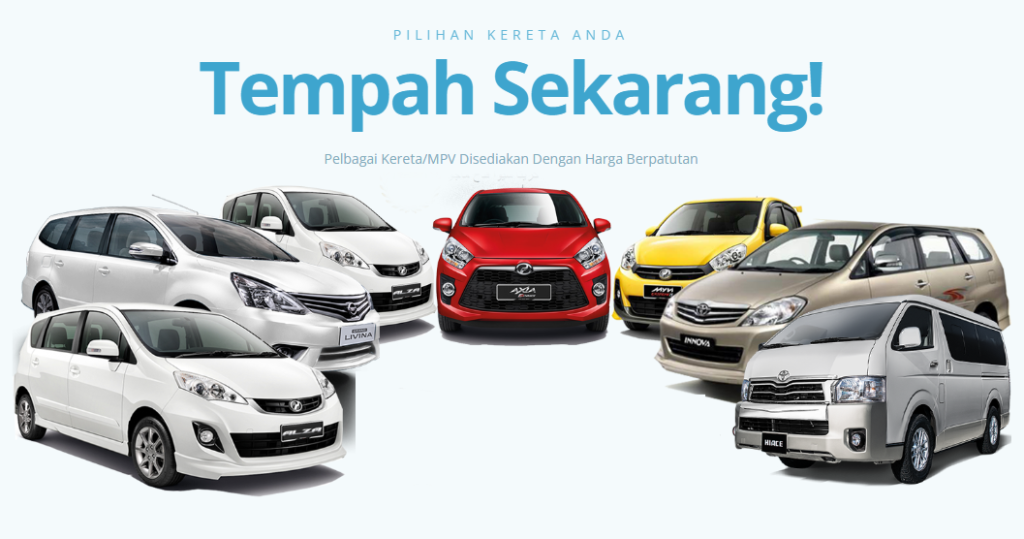 Car Rental Shah Alam offers a wide range of vehicles for rent to cater to the diverse needs of individuals, families, and businesses. Whether you are a tourist exploring Shah Alam and its surroundings or a local resident in need of a temporary vehicle, Car Rental Shah Alam aims to provide convenient and reliable transportation solutions.
The car rental company offers a fleet of well-maintained vehicles, including compact cars, sedans, SUVs, vans, and even luxury cars, ensuring that customers can find the right vehicle to suit their preferences and requirements. The cars are regularly serviced to ensure safety and optimal performance.
To rent a car from Car Rental Shah Alam, customers can make a reservation either online through their website or by contacting their customer service directly. The reservation process is typically straightforward, requiring customers to provide their personal details, preferred rental dates, and the type of vehicle they wish to rent.
Car Rental Shah Alam offers flexible rental periods, ranging from daily rentals to long-term leases. Whether you need a vehicle for a few hours, a day, a week, or even several months, they can accommodate your needs.
The rental rates offered by Car Rental Shah Alam are competitive and often come with additional benefits such as comprehensive insurance coverage, unlimited mileage, and roadside assistance. They strive to provide transparent pricing with no hidden charges, ensuring that customers have a clear understanding of the costs involved.
The pickup and drop-off locations for the rented vehicles are conveniently located in Shah Alam, making it easy for customers to access the vehicles and return them at the end of the rental period. Some car rental companies also offer delivery and pickup services for added convenience.
Whether you're visiting Shah Alam for business or leisure, renting a car from Car Rental Shah Alam can provide you with the freedom and flexibility to explore the city and its surrounding areas at your own pace. With reliable vehicles and excellent customer service, Car Rental Shah Alam aims to enhance the overall travel experience of its customers.
Factors That Influence The Selection Of Car Rental Shah Alam
When selecting a car rental in Shah Alam, several factors can influence the decision-making process. Here are some important factors to consider:
Rental Rates: The cost of renting a car is a primary consideration for most individuals. Compare the rental rates offered by different car rental companies in Shah Alam to find the most affordable option that fits your budget.
Vehicle Availability: Check if the car rental company has a wide selection of vehicles available to meet your specific needs. Consider factors such as the size of the vehicle, fuel efficiency, and features required for your trip.
Rental Duration and Flexibility: Determine the duration of your rental and check if the car rental company offers flexible rental periods. Some companies may offer discounts for longer-term rentals or provide options for hourly, daily, weekly, or monthly rentals.
Insurance Coverage: Verify the insurance coverage provided by the car rental company. It's essential to understand the extent of coverage, including liability insurance, collision damage waiver, theft protection, and personal accident insurance. Consider whether additional coverage is necessary for your peace of mind.
Rental Policies: Familiarize yourself with the rental policies of the car rental company. Check if there are any restrictions on mileage, additional driver fees, age requirements, fuel policy, and penalties for late returns or cancellations.
Reputation and Reviews: Research the reputation of the car rental company in Shah Alam. Read reviews and feedback from previous customers to gauge the level of customer satisfaction, vehicle quality, and overall experience. Online platforms like Google, TripAdvisor, or dedicated car rental review websites can be helpful in assessing the company's reputation.
Convenience and Location: Consider the proximity and accessibility of the car rental company's location in relation to your starting point or destination. Choose a rental company with convenient pick-up and drop-off locations, or one that offers delivery and collection services if needed.
Additional Services: Evaluate any additional services offered by the car rental company, such as GPS navigation systems, child seats, roadside assistance, or loyalty programs. These services can enhance your rental experience and provide added value.
Condition and Maintenance: Inquire about the maintenance and condition of the rental vehicles. A reliable car rental company should regularly service and maintain their fleet to ensure safe and reliable transportation.
Customer Support: Assess the customer support provided by the car rental company. Check if they have responsive and helpful customer service representatives who can assist you with any queries or issues that may arise during your rental period.
By considering these factors, you can make an informed decision when selecting a car rental in Shah Alam that best suits your needs, preferences, and budget.
Benefits Of Shah Alam Car Rental
Shah Alam Car Rental offers numerous benefits for individuals or businesses looking for convenient transportation solutions. Here are some of the key advantages of using Shah Alam Car Rental services:
Flexibility: Car rental services provide you with the flexibility to choose the type of vehicle that suits your specific needs. Whether you require a compact car for city driving or a spacious SUV for a family trip, Shah Alam Car Rental offers a wide range of vehicle options to cater to your preferences.
Cost-effective: Renting a car can be a cost-effective alternative to owning a vehicle, especially if you only need a car for a short period. By opting for Shah Alam Car Rental, you can avoid the expenses associated with car ownership, such as maintenance, insurance, and depreciation.
Convenience: Renting a car from Shah Alam Car Rental ensures convenience and ease of transportation. You can book a car online or by phone, and the rental company will typically deliver the vehicle to your desired location, whether it's your home, office, or the airport. This saves you time and eliminates the need to arrange transportation to the rental agency.
Variety of choices: Shah Alam Car Rental offers a diverse fleet of vehicles, including sedans, hatchbacks, SUVs, and luxury cars. This variety allows you to choose a vehicle that aligns with your preferences, budget, and specific requirements. You can select a car that accommodates the number of passengers and provides the desired features for a comfortable and enjoyable driving experience.
No maintenance hassles: When you rent a car, you don't have to worry about regular maintenance, repairs, or servicing. Shah Alam Car Rental takes care of all these aspects, ensuring that the vehicles are in good working condition and meeting safety standards. In case of any mechanical issues during the rental period, the rental company will typically provide a replacement vehicle promptly.
Temporary transportation solutions: Car rentals are ideal for individuals who require temporary transportation, such as tourists, business travelers, or those whose vehicles are undergoing repairs. Renting a car from Shah Alam Car Rental allows you to have reliable transportation during your stay without the commitment and expenses associated with long-term vehicle ownership.
Test-driving opportunities: If you are considering purchasing a new car but want to test-drive it for a longer duration, renting the same model from Shah Alam Car Rental can provide you with an extended trial period. This allows you to evaluate the vehicle's performance, comfort, and suitability for your needs before making a purchase decision.
24/7 assistance: Most reputable car rental companies, including Shah Alam Car Rental, offer 24/7 roadside assistance and customer support. In case of emergencies, breakdowns, or accidents, you can rely on their assistance to ensure your safety and resolve any issues promptly.
Overall, Shah Alam Car Rental provides a convenient, cost-effective, and flexible transportation solution, allowing you to enjoy the benefits of having a vehicle without the long-term commitment and associated expenses of ownership.
Things You Need To Know Before Using Shah Alam Car Rental
Before using Shah Alam Car Rental, there are several important things you should know to ensure a smooth and hassle-free experience. Here are some key points to consider:
Rental Policies and Requirements: Familiarize yourself with the rental company's policies, terms, and conditions. Understand the age restrictions, driver's license requirements, and any additional documents needed for renting a car. Ensure that you meet all the criteria before making a reservation.
Available Vehicle Options: Shah Alam Car Rental may offer a range of vehicles, including sedans, SUVs, van sewa shah alam, or luxury cars. Determine the type of vehicle that best suits your needs, considering factors such as the number of passengers, luggage space, and the purpose of your rental.
Reservation and Availability: Check the availability of the vehicle you want to rent during your desired dates. It is advisable to make a reservation in advance to secure your preferred vehicle, especially during peak travel seasons.
Rental Duration and Rates: Understand the rental duration options available and their associated rates. Some companies may have minimum rental periods, such as a daily or weekly basis. Clarify the rates, including any additional charges like mileage limits, fuel policies, and insurance coverage.
Insurance Coverage: Inquire about the insurance coverage provided by Shah Alam Car Rental. Understand the extent of coverage, including liability insurance, collision damage waiver (CDW), theft protection, and personal accident insurance. Consider whether you need additional coverage or if your personal insurance already provides adequate protection.
Condition of the Vehicle: Inspect the rental vehicle thoroughly before taking possession. Note any existing damages, scratches, or mechanical issues, and ensure that the rental company is aware of them. Take pictures or videos as proof of the vehicle's condition at the time of pickup.
Fuel Policy: Understand the fuel policy of Shah Alam Car Rental. Some companies provide a full tank of fuel at the start of the rental and expect it to be returned with a full tank. Others may require you to return the vehicle with the same fuel level as when you picked it up. Familiarize yourself with the policy to avoid additional charges.
Roadside Assistance: Inquire about the availability of roadside assistance in case of emergencies or breakdowns during your rental period. Understand the procedure for contacting the rental company or emergency services, should the need arise.
Return Conditions: Be aware of the return conditions and the location where you should return the vehicle. Understand the grace period for returning the car and any penalties for late returns. Ensure that you return the vehicle in the same condition as when you received it, taking note of any potential discrepancies.
Customer Reviews and Reputation: Research Shah Alam Car Rental's reputation and read customer reviews or testimonials. This can provide insights into the quality of their service, vehicle conditions, and overall customer satisfaction.
By considering these factors and clarifying any questions or concerns you may have before using Shah Alam Car Rental, you can have a more informed and enjoyable car rental experience.
Interesting Places To Visit In Shah Alam
Shah Alam, the capital city of the state of Selangor in Malaysia, offers a variety of interesting places to visit. Whether you're a nature lover, history enthusiast, or simply seeking cultural experiences, Shah Alam has something for everyone. Here are some of the noteworthy places worth visiting in Shah Alam:
Sultan Salahuddin Abdul Aziz Mosque: Known as the Blue Mosque, it is one of the largest mosques in Southeast Asia. Its stunning architecture and intricate blue dome make it a must-visit attraction. The mosque also houses the Islamic Arts Museum, which showcases Islamic art and artifacts.
Shah Alam Lake Gardens: A serene and beautiful park surrounding a lake, perfect for picnics, jogging, or leisurely walks. It features lush greenery, vibrant flowers, and a peaceful atmosphere. You can rent bicycles or paddleboats to explore the park or relax in one of the gazebos.
Shah Alam Royal Theatre: An impressive venue for cultural performances and events, the Royal Theatre is designed to resemble a traditional Malay palace. It hosts various cultural shows, concerts, and theatrical performances throughout the year.
i-City: This vibrant digital city is famous for its dazzling LED-lit attractions. It features the iconic i-City Theme Park, where you can enjoy thrilling rides, a snow park, and a water park. Don't miss the mesmerizing display of thousands of colorful LED lights at night.
Shah Alam Gallery: Located in the heart of Shah Alam, this art gallery showcases contemporary Malaysian art. It regularly hosts exhibitions, art workshops, and cultural events, providing an enriching experience for art enthusiasts.
Shah Alam National Botanical Park: Spread over 1,295 hectares, this expansive park is a haven for nature lovers. It offers various recreational activities such as hiking, cycling, and bird-watching. Explore the diverse flora and fauna, visit the beautiful lakes, or simply relax in the peaceful surroundings.
Wet World Water Park: A popular water park in Shah Alam, offering a range of exciting water slides, wave pools, and lazy rivers. It's a great place to cool off and have fun with family and friends, especially during hot Malaysian summers.
Shah Alam Museum: Discover the history and heritage of Shah Alam and Selangor at this museum. It houses a collection of artifacts, photographs, and exhibits that depict the region's cultural and historical significance.
Sultan Alam Shah Museum: Located within the grounds of the Sultan Salahuddin Abdul Aziz Mosque, this museum showcases Islamic art, calligraphy, and historical artifacts. It offers insights into the Islamic heritage and the history of the Selangor Sultanate.
Taman Botani Negara Shah Alam: Also known as the Shah Alam National Botanical Garden, this expansive park is a paradise for nature enthusiasts. It features various themed gardens, including the Orchid Garden, Cactus Garden, and Herbs and Spices Garden. Take a leisurely stroll and admire the diverse plant species or enjoy a picnic amidst the tranquil surroundings.
These are just a few of the interesting places to visit in Shah Alam. The city's blend of culture, history, and natural beauty ensures that visitors have a memorable experience during their stay.